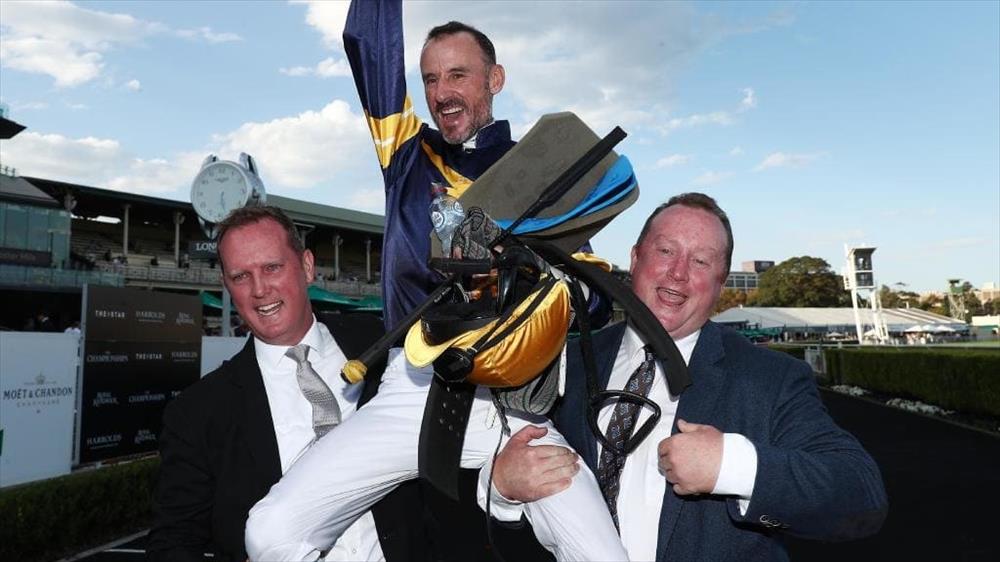 Doncaster Mile: Brutal destroys rivals
Glen Boss didn't have to wind back the clock to win Saturday's $3m Doncaster Mile on Brutal because the big-time rider had never lost his talents in the first place.
Boss, 49, won his seventh Doncaster Mile in front of 20,483 fans on the Team Hawkes-trained colt after answering a call from to travel from his Singapore base to ride Brutal at 49.5kg.
"One of the owners said, 'what's the plan' and Michael (Hawkes) said, 'Glen Boss'. We've just paid $8000 for him to come out. He came out first class and he's going back business. I think he should be upgraded," co-trainer Wayne Hawkes said.
Boss told the team straight away that barrier 21 wouldn't stop him giving their horse every chance to win and he ensured the three-year-old a beautiful time of it on the speed.
He sat just outside the leader Dreamforce at the 800m point and that's when Boss knew he'd be hard to beat. Dreamforce gave a good kick at the top of the straight but with 4kg less the carry Brutal went out after him and gobbled him up at the 100m to go away and win by a length with the gallant topweight Hartnell in third.
Co-trainer Michael Hawkes said the Doncaster triumph was right up there with winning the Golden Slipper on Estijaab last year and Mossfun in 2014 and he was as emotional as the tears started to flow post-race.
"A few of the owners asked me if I was nervous and I wasn't. I just wanted everything to go to plan and everything went 110 per cent to plan," Hawkes said.
"There is just so many people to thank, these owners have been fantastic for us. They've let us do what we wanted to do. We always knew we had the right horse and that man Bossy, what a ride. "He got into a beautiful rhythm and did what he had to do. This is pretty good."
The last time the Hawkes family experienced a Doncaster win was when John won the race on his own with Over, who upset the champion Sunline in 2000.
"It's a phenomenal moment. David Russo (part-owner) has had eight Group 1 seconds and he's finally got one," Michael Hawkes said. "The skies the limit with Brutal and the best is yet to come."
Wayne Hawkes said the team actually went to find some good fortune before the race. "We went to the old spot where we used to watch Lonhro and Octagonal and it brought us luck, that's for sure," he said.
Matt Jones, The Sunday Telegraph
April 6, 2019