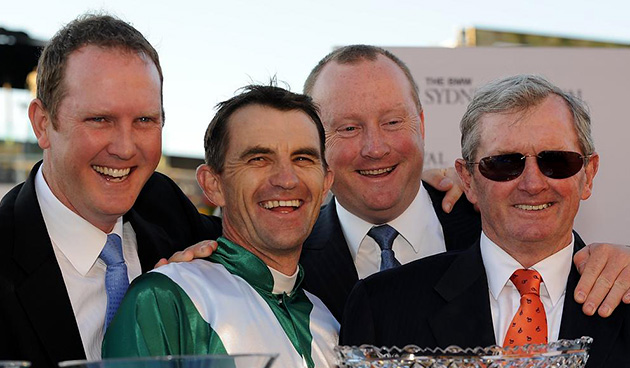 Dwayne Dunn is a key member of the Hawkes Racing team so when they needed a jockey for rides at Randwick on Saturday, he was straight on the plane.
Tommy Berry will ride in Brisbane, so Dunn comes to Sydney for Mahalangur, Heart Conquered and, importantly, Master Of Wine, which makes the switch from Melbourne to Sydney.
"It's great being part of the team with the Hawkeses. When these horses are in Melbourne I get to ride them, but I usually watch when they are in Sydney," Dunn said. "You know the rules, but being a part of the team when they need me in Sydney I'm happy to go.
"I will just be playing my role but there looks to be some handy rides there.  I'm sure I will be seeing a few of them in Melbourne in the spring."
Master Of Wine is one of the more interesting runners on the card as the import continues his first preparation in Australia.
Dunn has been part of Master Of Wine's career since the galloper was brought from England and feels he is on his way to being a very good horse next preparation.
"He is probably the main reason I'm up there because I know him. He has  had a few issues at the barriers but he is certainly talented," Dunn said.
"He is still a bit immature and has a turn of foot and even though he is in the staying races at the moment I think he could be effective around 1400 metres next time."
Master Of Wine has been placed twice on the Sandown Hillside track, the latest after being three-wide with no cover. He gets in with 54.5kg as he looks for a first Australian win to go with a victory at Epsom Downs.
"The trip to Sydney is going to do him a lot of good and he can be competitive in this type of race," Dunn said. "He has the ability to reel off a [fast] section, it will be a matter of where he gets in the run and that will come down to how he is in the barriers."
Dunn has experience on Heart Conquered and Mahalangur from their Melbourne preparation. He won on Heart Conquered at Ballarat and knows his free-running style.
"He is very fast and a horse you don't really want to take a sit on," Dunn said. "I did that at Moonee Valley and never got out. Then he came to Sydney and just kept winning.
"He is a good sprinter who is on his way up.
"Mahalangur is another that is in good form and looks like this trip will suit. He might be on his way to stakes class as well."
Chris Roots
Racing writer for The Sydney Morning Herald